Weekly Bookmarks –
135th Edition – September 5, 2021
When it comes to achieving excellence, figuring out the right things to do isn't' nearly as difficult as continuing do them over the long term.

Gary Harpst
1. Revisiting Six Disciplines for Excellence
I recently picked up Six Disciplines for Excellence this past week after interviewing the author, Gary Harpst. The book is a detailed playbook on executing a company's set of priorities which Gary calls the vital few objectives (VFOs).
When I first read the book in 2008, I immediately started sharing the following graphic with every CEO I worked with. Gary's research of 300 small businesses revealed that the leadership teams of top-performing organizations rated 155% higher than lower performers. That item ranked first.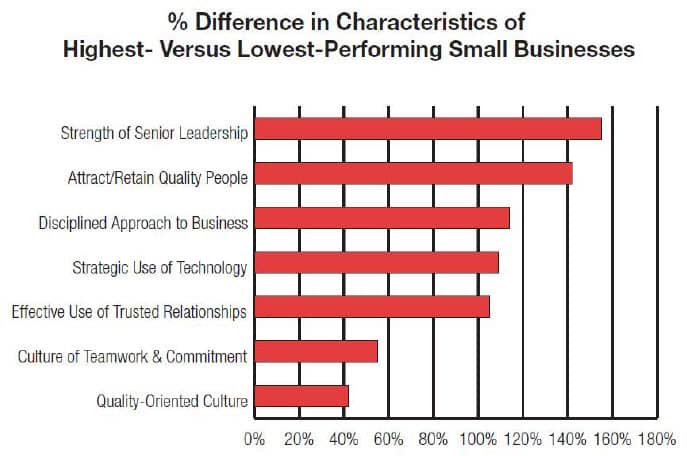 2. Do Stop Lists Really Work?
In last week's newsletter, I provided Solomon Software's stop-doing list that their leadership team created. However, I didn't say what happened after the list was created.
Mark, we implemented that stop list at the time we implemented the Windows platform. We grew 600% in the next five years when we quit doing all those things. That's remarkable. We grew from $9 million in sales to $60 million in no time because we quit doing all those things.

Gary Harpst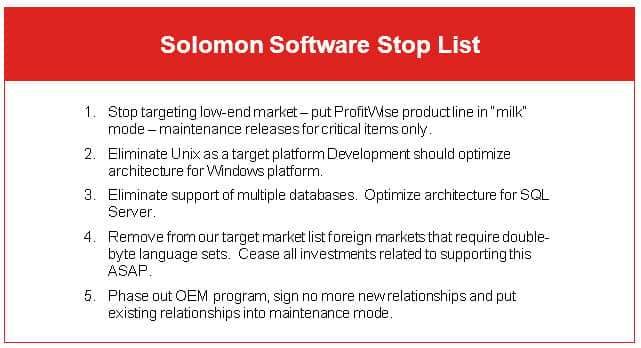 3. Great Plains, Did You Know … ?
I love hearing Gary talk about his company making the shift to a Windows platform. Cash was limited. The competitor Great Plains was not only a public company, but they had 100 people working on conversion. How about Solomon? Just 5 people. Yet, they pulled it off.
I'm not calling Great Plains the big bad wolf. Far from it. Plus, they had a great CEO who is currently a state governor. But they did have strength in numbers and cash.
Below is their explosive growth curve from 1995 to 1999 where revenues soared at nearly a 60% annual compound growth rate.

4. What is Enduring Excellence?
In Gary's second book, he says, "Leaders who build organizations with the ability to balance strong strategy with strong execution over long periods of time achieve enduring excellence.
On page 8 of Six Disciplines Execution Revolution, he introduces the following 2×2 matrix which is presented with permission from the author.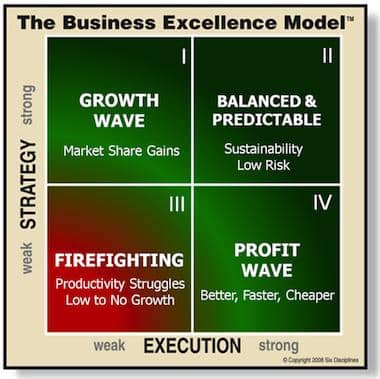 It goes without saying that we all want to be in Quadrant II. But even Gary states that "Few companies are able to achieve this kind of performance for long periods of time." The keys to getting and staying in Quadrant II? Gary will tell you to refer back to the research mentioned in Section 1 above.
5. Sports Stories That Inspire
Need a book suggestion on your way back home from your holiday trip? How about some light reading that's impactful and inspires?
The first one actually tackles some heavy topics but from a sports personality point of view. The title is The Cost of These Dreams: Sports Stories and Other Serious Business by Wright Thompson. The next two were mentioned in the book in the section about Urban Meyer:
Are you a high-dopamine business or financial leader where you rarely push the pause button? Then the two titles above will probably resonate.
---
Recent Bookmarks – 134 | 133 | 132
The CFO Bookshelf Podcast – Want to hear more from Gary Harpst based on the comments above? This one will probably be a long-time favorite for years to follow. You can check it out here.
Thank You For Reading. Thank you for making this a successful newsletter.
If you like the content above and the posts at CFO Bookshelf, may I ask a favor? Feel free to share this with other readers along with commenting on your favorite blog posts on LinkedIn, Twitter, or Facebook.
Always be learning and growing.