Monthly Bookmarks –
152nd Edition – February 19th, 2023
Few phrases are more explosively controversial than profit maximization.

Hermann Simon – True Profit
1. Executive Compensation
Any search on executive compensation will reveal mostly negative stories about pay being too high or overly generous stock options for the person at the top.
Did you realize expective pay was once lagging compared to other employees in their organizations? One WSJ article in 1942 was entitled The New Poor: A Salary Ceiling Story of Mr. Smith and His Fellow Bank Directors.
During an eleven-year run starting in 1939, management pay increased just 35 percent, while hourly pay more than doubled, based on research by McKinsey consultant Arch Patton.
The next time you read an article about executive compensation, you can credit Patton, who is widely regarded as the person who created the salary survey (although it was originally intended for executives so they could compare their compensation packages with peers outside their organizations. He wrote a book called Men, Money, and Motivation: Executive Compensation as an Instrument of Leadership.
While I'm sure Patton's book faired well after he published it, I'm suggesting Fair Pay by David Buckmaster as the best book ever written on compensation. He gears the book for employees, but this is MBA-like material that any leader and HR executive should include on their reading lists as there is zero fluff in this well-documented resource on fair pay.
2. Is Profit Actually a Cost?
In his book, True Profit, Herman Simon quotes Peter Drucker, "Profit is the cost of survival."
Simon lists those costs as, 1) the cost of capital, 2) the costs of entrepreneurial risk, and 3) the costs of securing future jobs and pensions.
Simon adds, "In this sense, profit should not be understood as a residual that hopefully has a plus sign at the end of the business year. Instead, profit should be factored in upfront, like cost, in order to secure the company's survival."
3. You Can't Make These Stories Up
As a longtime financial analyst, controller, CFO, and now a consultant, I get tired of the labels such as tightwad, cheapskate, or miserly. Just the opposite, I love spending money with the promise of big returns. Instead, I suggest that those off-putting money labels be directed at CEOs too.
Here's a case in point. Shaun Hayes was the mastermind who helped to grow a small Missouri bank into a $1 billion powerhouse that went public and was later sold to a larger bank. In his book, The Gray Choice, he describes driving 168 miles from Kahoka, Missouri, to St. Louis with $750,000 in his trunk and back seat to deposit at the Federal Reserve the following day. Why? To save a whopping $250, the cost Brink's would have charged the bank.
I think I've made my point.
4. The Rule of 6 and 125
I'm a sucker for any mental models that include a number in the name. I recently read about a mental construct mentioned by Jim Glidewell. He's the founder and President of the largest privately-owed dental labs based in the U.S.
He claims that if one person has a bad customer experience, they will tell six people. In turn, those six people will tell six more until 125 people have heard about this negative experience.
The results don't ramp up that way for a positive customer experience. A happy customer only tells two people. As the good news is passed on, only six people have heard this positive story.
Glidewell concludes, "Bad news travels like wildfire, while good news withers on the vine."
5. Rewriting the Rules of Innovation
After watching a documentary on Lego last month, I picked up Brick by Brick by David Robertson, which the WSJ calls, "A nuanced and readable case study." That's the perfect description for this book that focuses on the pillars of innovation at this global iconic brand.
According to the author, "The most difficult challenge in business is not to invent an innovative product; it's to build an organization that can continually create innovative products." The best way to understand this comment is the innovation matrix that Robertson includes on page 176.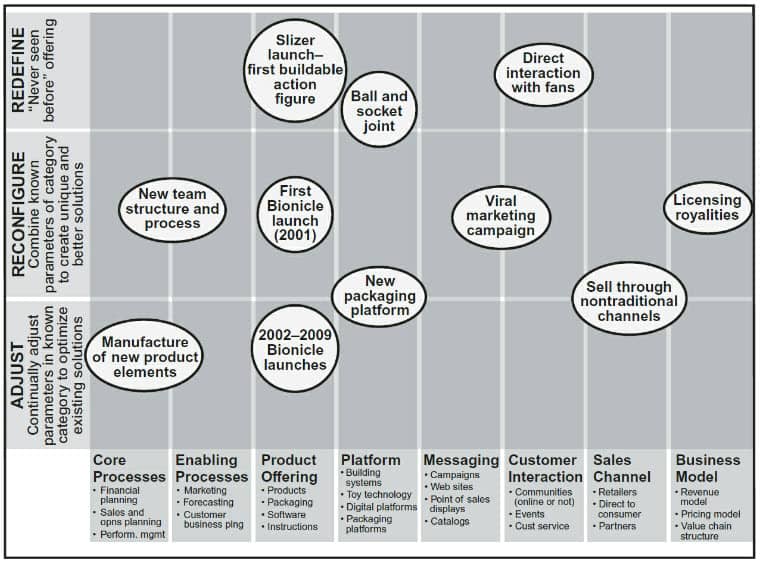 While a full reading of chapter six is needed, any business planner can gain quick insights in applying these three critical verbs to their current business offering by 1) adjusting it, 2) reconfiguring it, or 3) redefining it. This applies equally to professional services, not just product-based organizations.
---
Recent Bookmarks – 151 | 150 | 149
Recent CFO Bookshelf Podcast Playlist:
The Best Investment Books Ever Written
The History of Daylight Savings Time
Leadership Refined by Fire
Our Favorite Books in 2022
Executive Toughness
The Subscription Economy for Professional Firms
Upside Down Management at Timpson
The Gray Choices in Our Business Decisions
Thank You For Reading. Thank you for making this a successful newsletter.
If you like the content above and the posts at CFO Bookshelf, may I ask a favor? Feel free to share this with other readers and comment on your favorite blog posts on LinkedIn, Twitter, or Facebook.
Always be learning and growing.